JEJU OLLE TREKKING - MEDIUM LEVEL part 1
With 437 km total of beautiful trekking, the Jeju Olle Trail (Ollegil 올레길)
is definetly something to try out for a memorable experience that you will cherish for the rest of your life.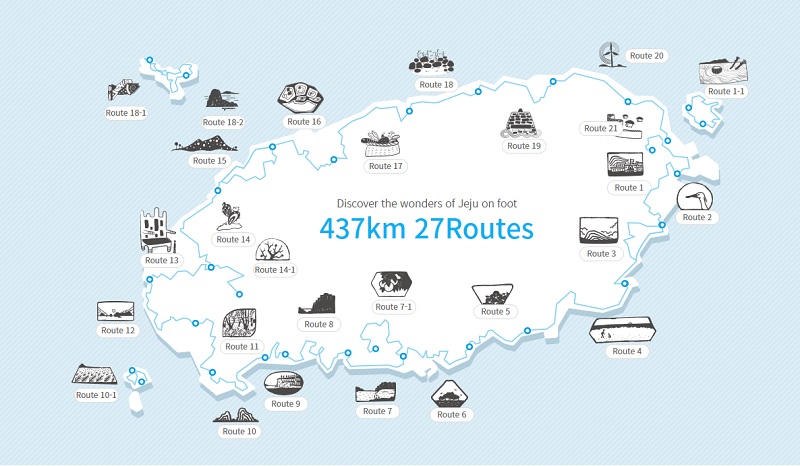 Route 01: Siheung - Gwangchigi Olle
Total Distance: 15.1Km, Total Time: 4-5hour, Difficulty: Medium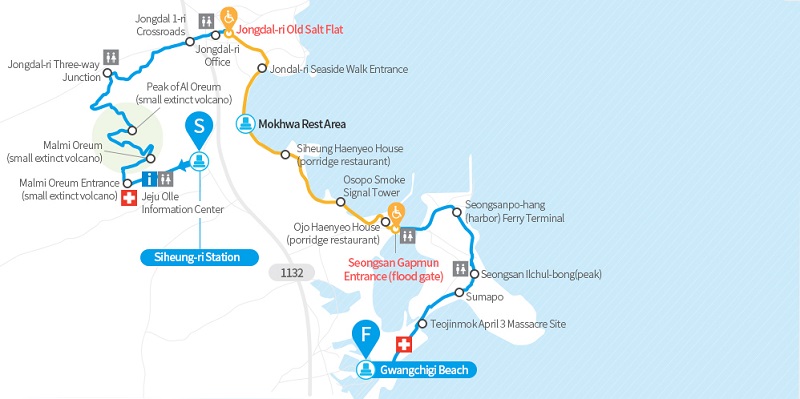 Temporary Detour
-Section: Sumapo~Gwangchigi beach
-In effect from: March 20, 2023
-Temporary detour due to Sumapo coastal improvement project
(typhoon damage restoration work)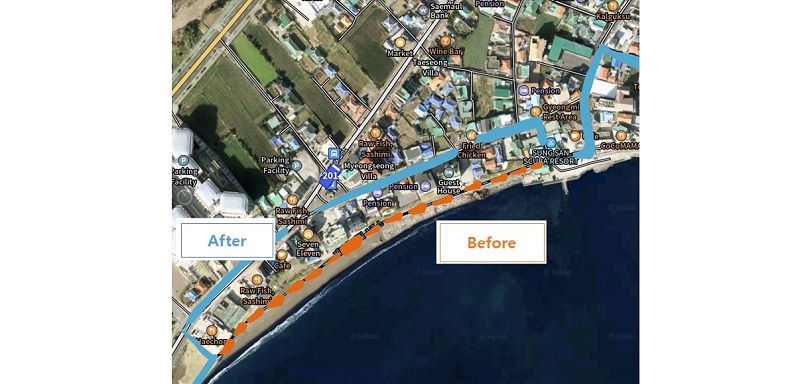 Jeju Olle's first route connects Oreums to the ocean. The route starts near Siheung-ri Station and connects to an evergreen
field, Malmi Oreum(small extinct volcano) and Al Oreum(small extinct volcano) with a panoramic view of Seongsan Ilchulbong(peak)
and U-do Island. This view, the green fields with Jeju's signature black stone wall, resembles a patchwork of colorful cloth. Passing Jongdal-ri old salt flat and Siheung-ri coastal road and you will arrive at Sumapo Beach with an impressive view of Seongsan Ilchulbong(peak). Finally, the color of the ocean and algae covered rocks at Gwangchigi Beach is simply stunning. / *Sumapo: port where horses grown in Jeju were sent to the mainland back in Joseon Dynasty.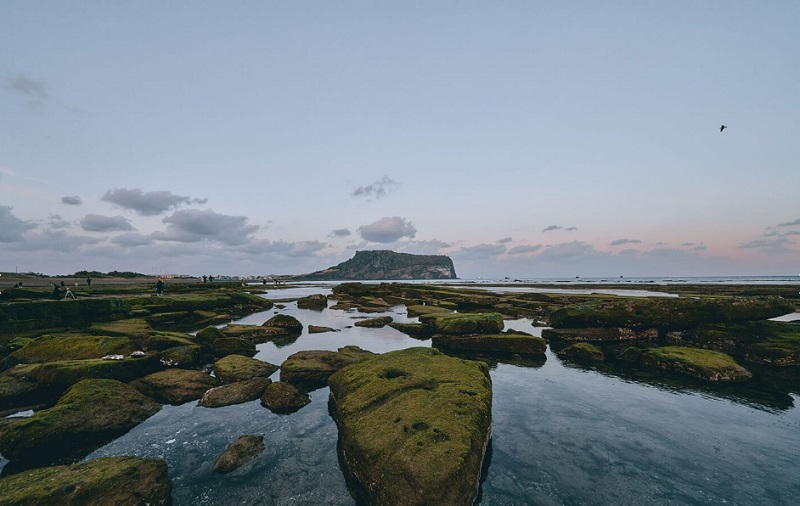 성산일출봉 Seongsanilchul Peak
Route Tip
There are restaurants on the coastal road to Jongdal-ri and Seongsan. Popular dishes are clam porridge and abalone porridge at 'Haenyeo(women diver) House". If you leave early enough, you can have lunch at Seongsan.
---
Route 01-1 : U-do(island) - Olle
Total Distance: 11.3Km, Total Time: 4-5hour, Difficulty: Medium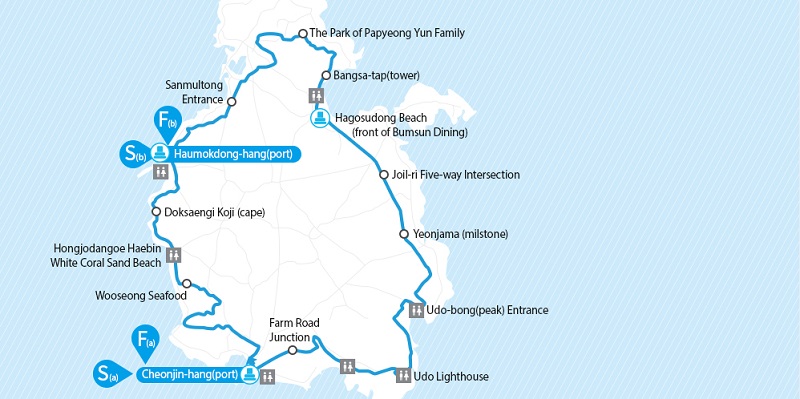 Temporary Detour
-Section:Udong-bong(peak)
-In effect from: March 28, 2023
Previous distance: 1.6 km ->1.2 km
-Temporary detour due to instalation of safety guard rails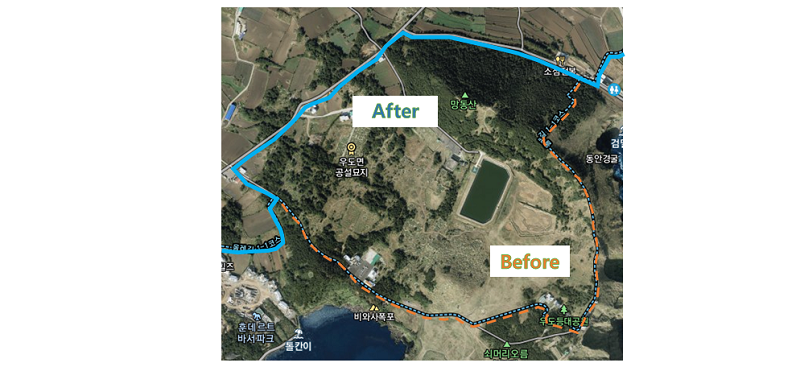 Shaped like a sprawled-out cow, U-do exemplifies the essence of Jeju's scenery with endless green fields, black stone walls, and lighthouses. The largest of the 62 islets surrounding Jeju Island, U-do offers a trail where you can enjoy the indigo ocean and a magnificent view throughout the year. Hiking alongside the old stone walls that are still preserved in their original form, you can enjoy wide variety of landscape, from seaside walk to farm road with the rye, barley and peanuts growing on the trail.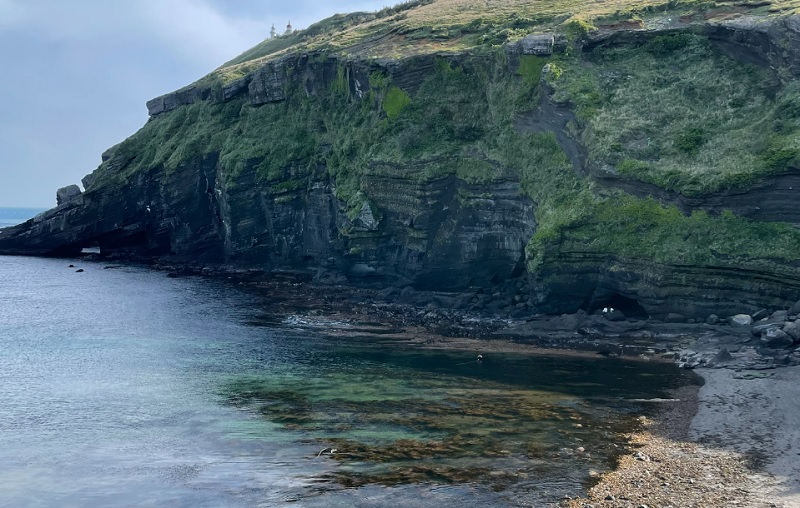 Route Tip
There are restaurants around Hagosudong Beach. If you started hiking early in the morning,
there are number of restaurants to ease your hunger near Geommeolle Beach.
---
Route 02: Gwangchigi - Onpyeong Olle
Total Distance: 15.6Km, Total Time: 4-5 hour, Difficulty: Medium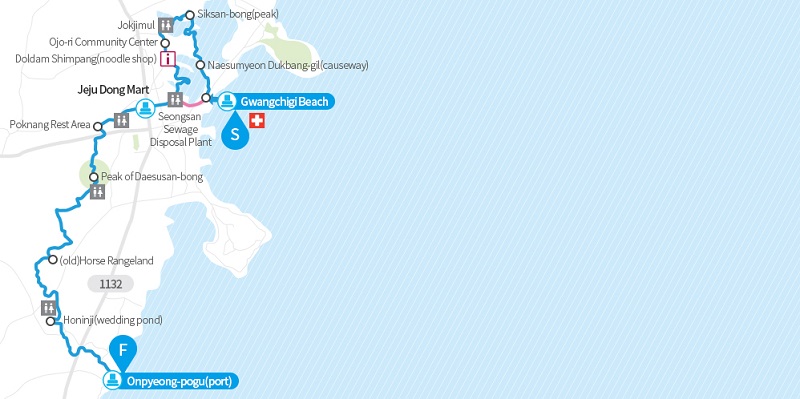 Starting at Gwangchigi Beach, the trail passes Siksan-bong(peak), Daesusan-bong(peak), Honinji(wedding pond) to a small beach in Onpyeong-ri. The attraction continues with path across the field along inland water and peaceful mountain path. On the top of Daesusan-bong(peak), hikers can enjoy wide views of the eastern coastline of Jeju Island. The route passes around a pond that has a special place in Jeju mythology. According to the myth, three gods (the founders of Jeju Island) married three princesses Byeokrangguk. They had their wedding ceremony near the pond, so the pond was named Honinji(wedding pond).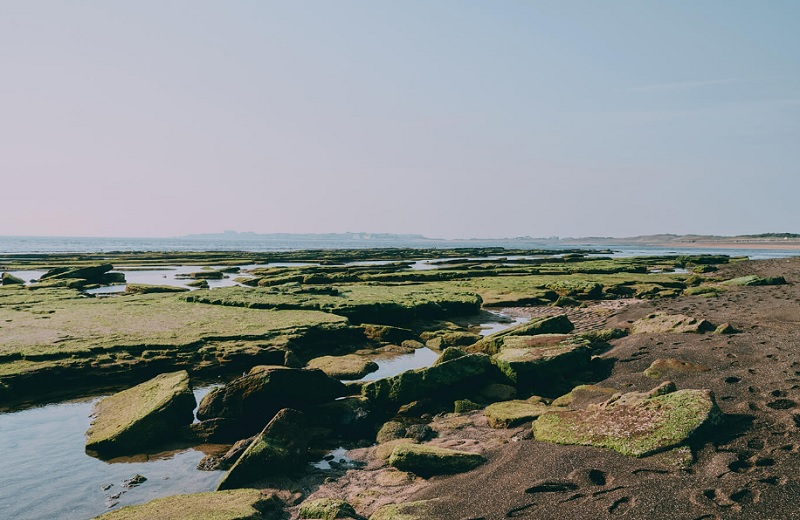 광치기해변 Gwangchigi Beach
Route Tip
There are both small and big restaurants at the main street near Jeju Dong Mart, the mid-point of Route #2.
There is no store past this point, between Jungsangan-gil and Onpyeong-ri, so beware.
---
Route 04: Pyoseon - Namwon Olle
Total Distance: 19Km, Total Time: 5-6hour, Difficulty: Medium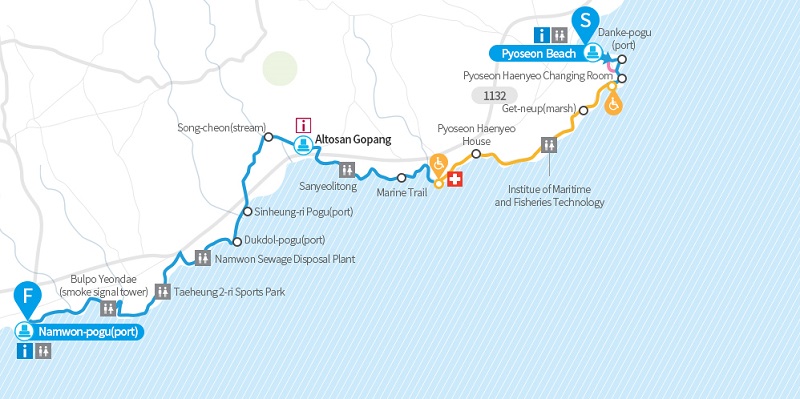 The coastal Olle starts at the shiny beach. Past the Haenyeo(women diver) changing room and cross the 'Ganeungae' named after its structure where the ocean narrows down into a thin strand, you will reach Sehwa-2ri, the fishing village. The old name for Saehwa-2ri is Gama-ri. 'Gamari Haenyeo Olle' is the path where Jeju Haenyeos, apparently the world's first female professionals, used to get to the ocean. Jeju Olle has rebuilt the forest path that continues afterward, after 35 years. The Marine Corps lent a hands in building this path, so it is also known as the Marine Trail.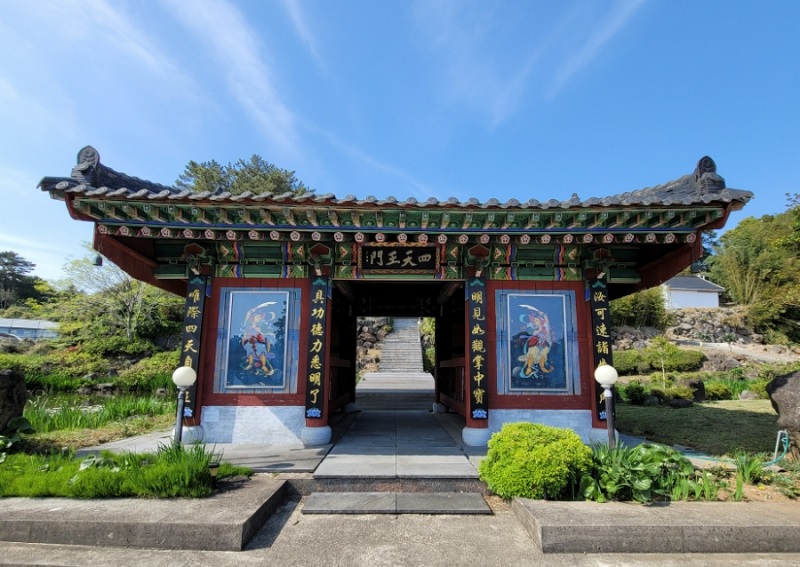 영천사 Yeongcheonsa (temple)
Route Tip
There are lots of restaurants and cafes on the coast. Tosan-pogu(port), Sinheung-ri pogu(port), and to Namwon.
---
Route 05: Namwon - Soesokkak Olle
Total Distance: 13.4Km, Total Time: 4-5hour, Difficulty: Medium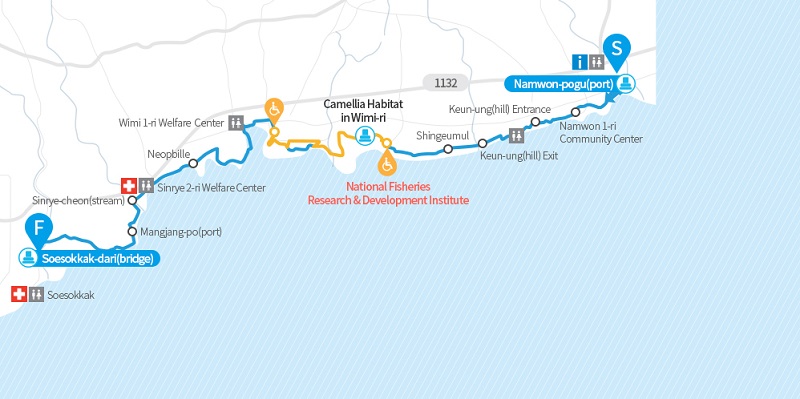 From coast to village, you can feel the Jeju with your five sense on this route. The route goes on from Namwon to one of the most beautiful coastal trails in Korea, Keun-ung(hill) Walkway and Soesokkak Estuary where freshwater and seawater comes together. The scenery of camellia fences around the village makes relaxing and cozy atmosphere. We have restored 3 sections of the coastal trail, with support Namwon-eup and the 93rd battalion of the Marine Corps. It is particularly pleasant to hike through the forest of subtropical plants toward the ocean. Hearing the sound of the waves while hiking is unforgettable experience.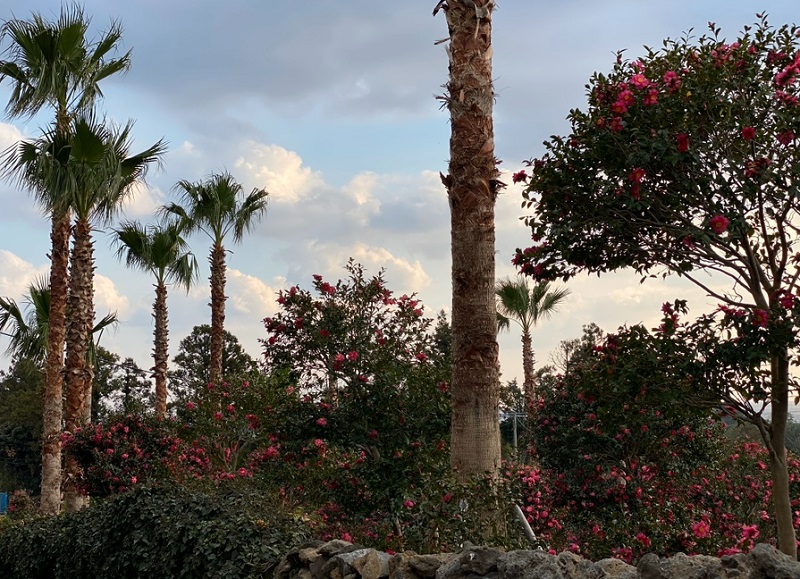 위미동백나무군락 Camellia Habitat in Wimi-ri
Route Tip
There are raw fish restaurants in the middle of the route at Jobae Meodeul Koji(cape) and Wimi-hang(harbor). You can have fresh sashimi and seafood soup for early lunch. If you leave early enough, you can try Cold Raw Fish Soup with Damselfish near Gongcheonpo Rest Area.