JEJU OLLE TREKKING - MEDIUM LEVEL part 2
With 437 km total of beautiful trekking, the Jeju Olle Trail (Ollegil 올레길)
is definetly something to try out for a memorable experience that you will cherish for the rest of your life.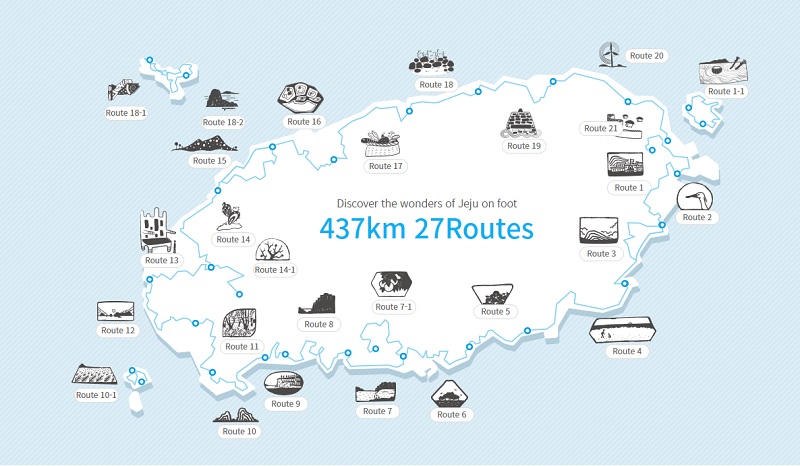 Route 07: Jeju Olle Tourist Center - Wolpyeong Olle
Total Distance: 17.6Km, Total Time: 5-6hour, Difficulty: Medium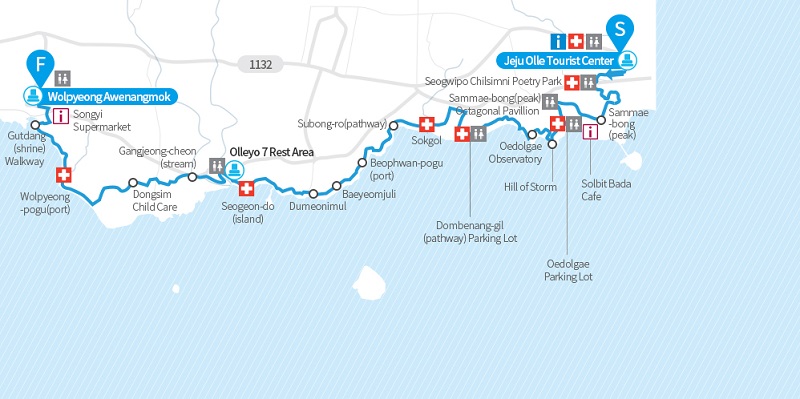 Route 7 is a coastal Olle starting at Jeju Olle Tourist Center, passing through Beophwan-pogu(port) and finishing at Wolpyeong. Near the start of this trail is the breathtaking rock spire of Oedolgae and its surrounding cliffs. You will hike along the beautiful Oedolgae known for its outstanding scenery and Olle hikers' all-time favorite ecology trail 'Subong-ro.' Subong-ro' is built solely by an former Olle Ranger, Mr. Subong Kim, back in the time when Jeju Olle Foundation was surveying the third route. Mr. Kim made walk-able path with a hand shovel and pickax on the path only goats used to walk. There used to be no way of walking the rugged and wild 'Dumeonimul- Seogeon-do(island)' route, but staffs and volunteers of Jeju Olle handpicked stone by stone off the trail and renovated it into a new coastal path. The route earned a new name, 'Ilgangjeong Badang Olle'.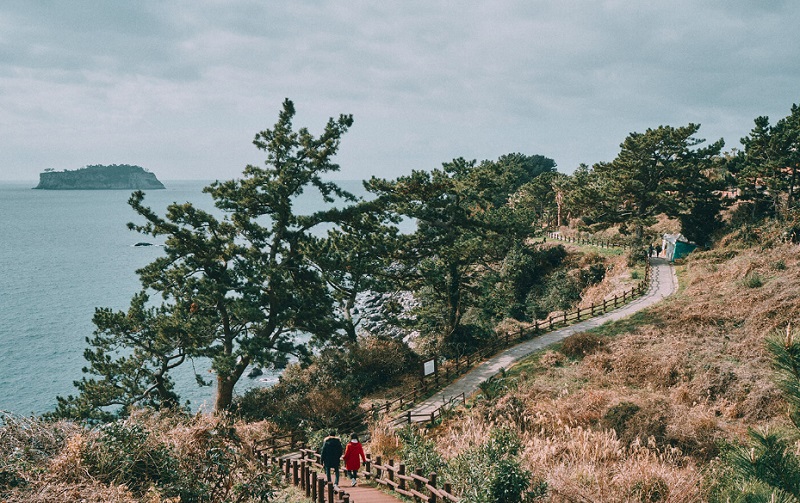 돔베낭길 Dombenang-gil(pathway)
Route Tip
There are some restaurants in Beopwhan-pogu(port) and the town.
If you can hike fast, you can get something to eat at Kensington Resort or Gangjeong Village.
---
Route 07-1: Seogwipo Terminal - Jeju Olle Tourist Center Olle
Total Distance: 15.7Km, Total Time: 4-5hour, Difficulty: Medium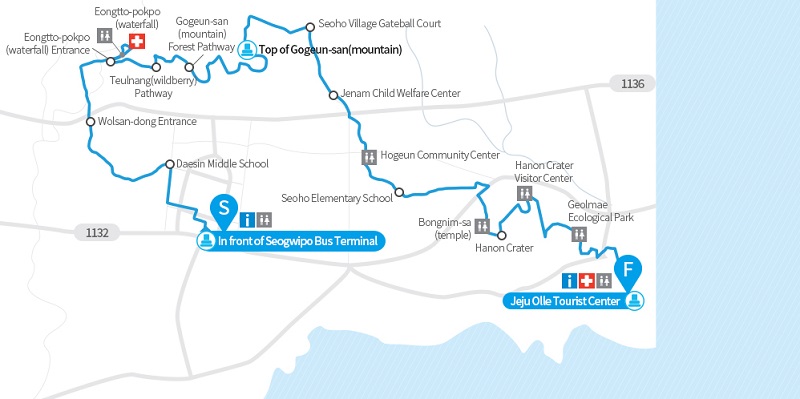 You breathe with the allure of the mid-mountainous areas of Jeju. It starts at Seogwipo Bus Terminal through the mid-mountainous areas and finishes at Jeju Olle Tourist Center. You will find Halla-san(mountain) rising majestically to the north and Jeju's southern sea and the entirety of Seogwipo to the south. The scenery of the Jungsangan surrounded by cliffs and natural warm-temperate forest are striking. You can also pass by rice fields within a large crater, quite rare in Jeju. It is a lot of fun to hike along the ridge between rice fields.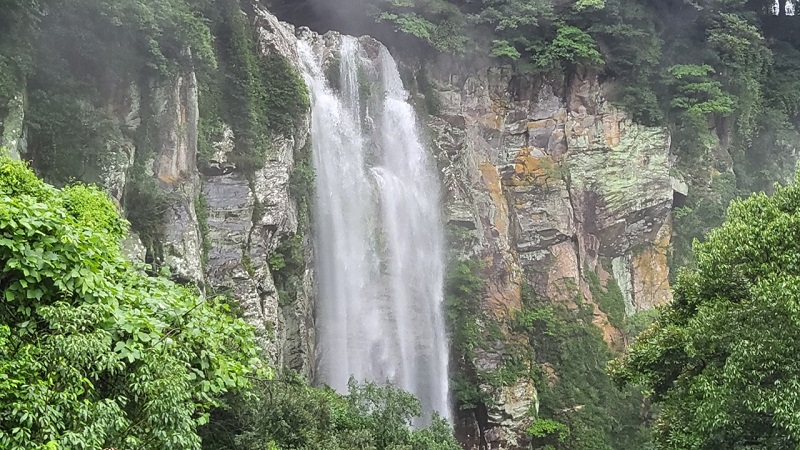 엉또폭포 Eongtto pokpo (waterfall)
Route Tip
Once you pass the restaurants around Seogwipo Terminal and Hogeun Village. You can still have lunch near Togyechon.
---
Route 08: Wolpyeong - Daepyeong Olle
Total Distance: 19.6Km, Total Time: 5-6hour, Difficulty: Medium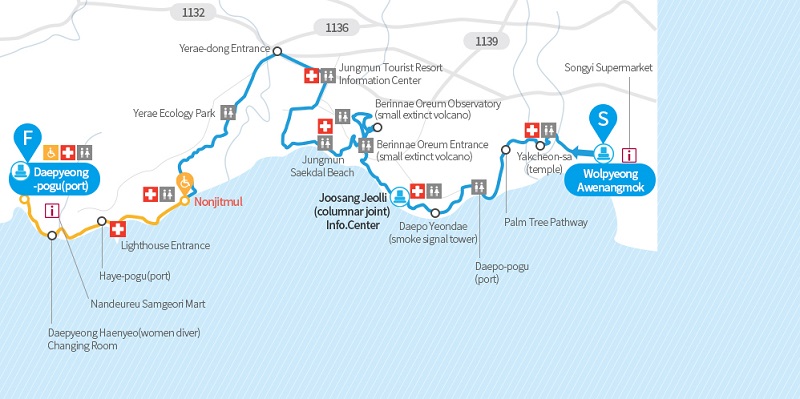 On this Badang Olle(seaside walk), you will have the opportunity to hike past Joosang Jeolli where lava flowed to the ocean cooled down to form striking hexagonal columns of basalt and the Yerae Ecological Park full of seasonal flowers. The route ends at Daepyeong-ri, a small village that delivers coziness in harmony with the surrounding nature. Referring to the large field, the ocean meets the ridge of Andeok Valley, the village is also called Nandeureu. Scenery of the village Gunsan, the mountain overlooking the village, is gorgeous.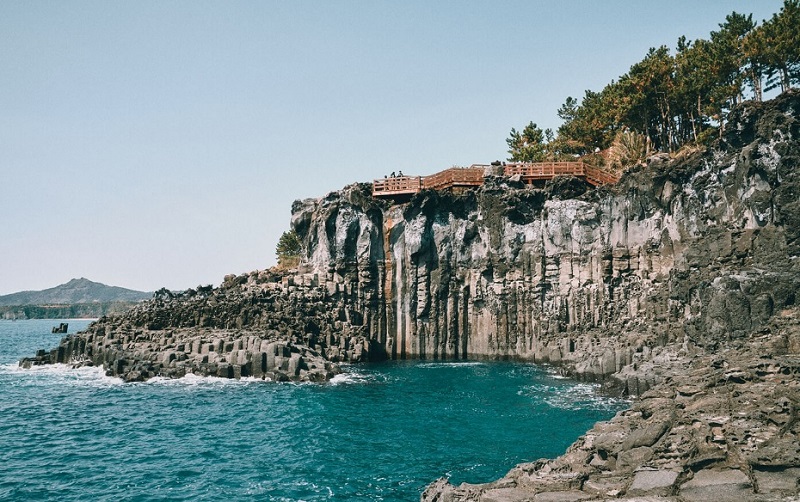 대포주상절리(지삿개바위) Daepo Joosang Jeolli(columnar joint)
Route Tip
You have a lot to choose as there are many restaurants around Daepo-pogu(port),
Joosang Jeolli(columnar joint), Jungmun Saekdal Beach, Nonjitmul and Daepyeong-pogu(port).
We recommend you try the seasonal seafood.
---
Route 10: Hwasun - Moseulpo Olle
Total Distance: 15.6Km, Total Time: 5-6hour, Difficulty: Medium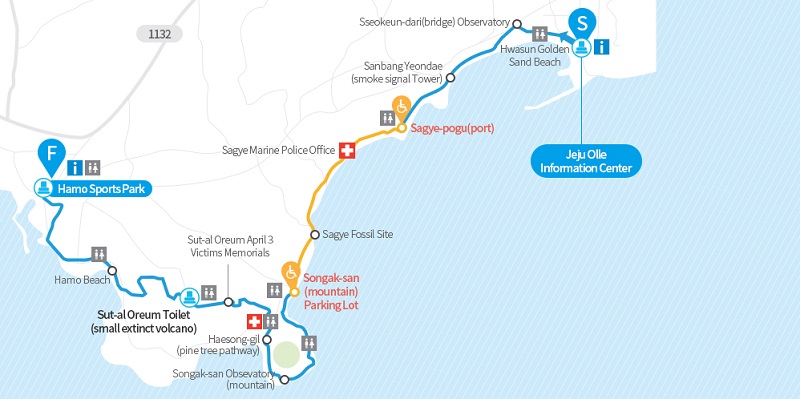 This coastal route begins at the Hwasun Golden Sand Beach and ends at Hamo-ri in Daejeong-eup. The route passes by Sseokeun-dari(bridge), Hwangwoochi Beach, Sanbang-san(mountain) and Songak-san(mountain). You will see magnificent figure of Sanbang-san(mountain) in the beginning of the route and you can see the small island communities of Mara-do and Gapa-do in the distance. As you pass the coastal town of Sagye, be sure to turn around to catch a spectacular view of Halla and Sanbang Mountains behind you.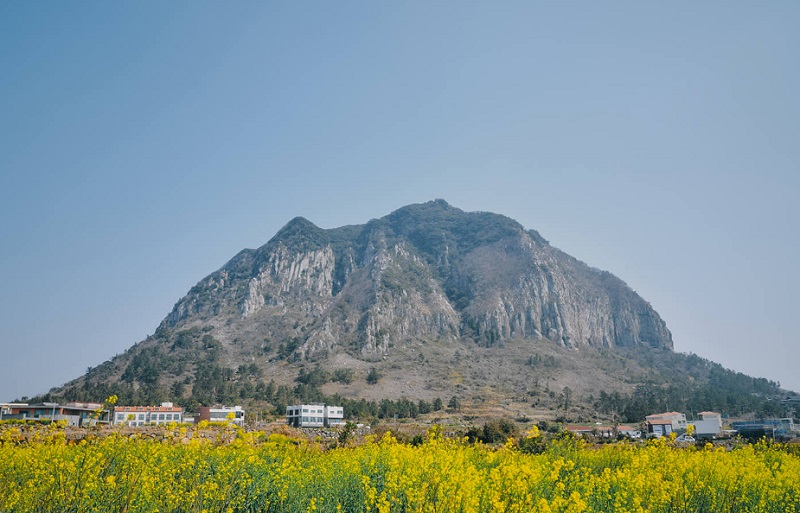 산방산 Sanbangsan (mountain)
Route Tip
There are many restaurants at Sagye-pogu(port) and the entrance to Songak-san(mountain).
There are many raw fish restaurants and local restaurants near the finishing point, Moseulpo-hang(harbor)
---
Route 11: Moseulpo - Mureung Olle
Total Distance: 17.3Km, Total Time: 5-6hour, Difficulty: Medium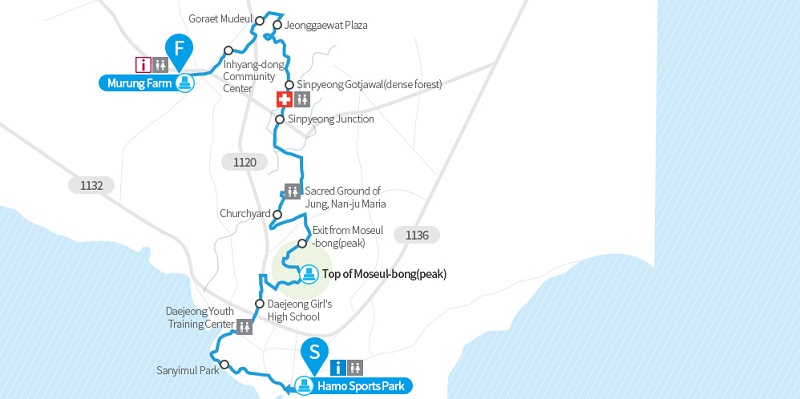 Starting at Hamo Sports Park, route 11 is where life and death coincide. It is the route where the modern and contemporary histories coexist. Jeju Olle restored 'The Long-Lost Road' to the peak with support the forest firewatchers. On top of Moseul-bong(peak), you can see the oreums and sea of Southwest Jeju. The Gotjawal Olle located between Sinpyeong and Mureung known as impressive 'Hidden Jeju Forest' was first introduced to the public by Jeju Olle.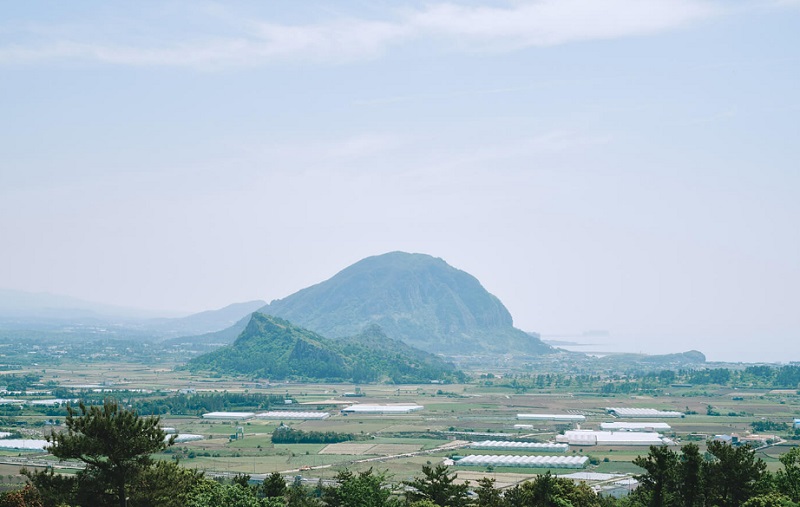 모슬봉 Moseul-bong(peak)
Route Tip
Past the convenience store and restaurant at Sinpyeong Crossroads is the Gotjawal.
There is no restaurant or store until the finishing point, Murung Farm.
Packing light snack is recommended to explore this route.